When I try a case to a jury, I feel pressure to win.   That's to be expected.  It's called a "trial" for a reason.  
Years ago, an older lawyer hired me in a dispute with his sister.  She had hired an established law firm and -  together, they had their father's will changed.  And, it was not going to be easy to win this one.  Believe me, my client wanted to win.
First, will contests are incredibly difficult to win.  A jury, understandably, is reluctant to change an official legal document signed, sealed and delivered.  
Secondly, the sister had hired a top-notch firm that specialized in estate planning. The firm took no chances here and had two senior partners handle every aspect - the meetings with the client, the client signing the will, and post-signing communications.
We tried the case in front of a Morgan County jury.
I had taken an improv class earlier that year by renowned director, Keith Johnstone.
Improv, as taught by Johnstone, is not so much about being funny or silly.  That's the perception, but it is more than that.  It's about learning to listen. It's about being in the moment.  It's about being in tune with what is happening in the room.  It's about being aware.  
In other words, it embodies relationships with others in the room -  something that they don't emphasize in law school.  
One of the main lessons I learned at Bay Area Theater Sports was to stay with whatever unfolds in the moment.  
During the closing argument, I dropped a handful of papers.  The papers went everywhere on the floor.  Scattered.  I was embarrassed.  I wasn't sure what to do or say.  For a moment, I wanted to freeze.  
I remembered from improv -  just roll with it.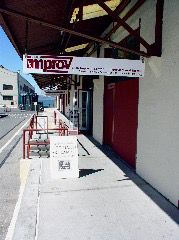 I said to the jurors, "well, I've been afraid that this would happen for some time.  I am glad that it finally happened.  I can now stop worrying about it."
They chuckled.  
And I kept arguing my case.  I didn't allow the paper drop to throw me off course.
We ended up winning that case - the jury found that the father was incompetent when he signed the new will -   and that the will had been procured by fraud.  
Here, for my client, the stakes were high -  he wanted to protect his father's legacy and, just as importantly, he didn't want to lose to his sister at trial.
Improv for the W.